Imagine if your children could experience a live concert performance without having to leave your home! While physically attending concerts can be a rewarding experience, for many families with young children, this is quite difficult if not impossible. A growing number of concert halls are streaming performances live over the Internet for free complete with video footage!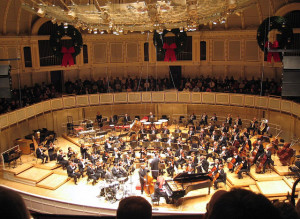 Here are 8 ways for babies, toddlers, young people, and families to "attend" live classical, jazz, and other types of concerts in the comfort of your home! Several of the sites also archive prior performances for viewing at a later date.  [Note that you'll probably need to plan ahead to some extent to determine when the concerts occur.]
[The Kennedy Center]"which opened on September 8, 1971, continues its efforts to fulfill President Kennedy's vision by producing and presenting an unmatched variety of theater and musicals, dance and ballet, orchestral, chamber, jazz, popular, world, and folk music, and multimedia performances for all ages."
"As a pre-eminent multi-disciplinary performing arts center, Symphony Space's mission is to offer artistic leadership that promotes innovation, excellence, engagement, and accessibility to artists and audiences alike."
The most accessible orchestra on the planet, broadcasting more than 20 free live webcasts per season.
Smalls Jazz Club is located in New York City and says this about its live streaming and archives:
The intention and purpose of this website is ultimately dedicated to the betterment of Mankind through the dissemination of this music. Our hope is that the music on this site is studied and enjoyed by people of open minds and clear thoughts. We ask that you research the artists and, if you enjoy their music, to support them by buying their cds or contacting them with positive feedback. We dedicate this site as a resource for musicians and fans to discover each others work and to share ideas. Through peaceful interchange we will be able to progress as Artists and as Human Beings.
The mission of Jazz at Lincoln Center is to entertain, enrich and expand a global community for jazz through performance, education and advocacy.
We are inspired by our unique dual history as both a jazz institution and the home of Les Paul who played here from 1996-2009 and continues to guide us.
Le Poisson Rouge is a multimedia arts and music venue in New York City.
8) University/College Schools of Music
Many Schools of Music in Universities and Colleges across the country stream recitals and concerts online for free. A simple Google search  provides some starting points for a free concerts taking place throughout the year.
Have you streamed live performances into your home? How would you set up your home into a "concert hall" that works best for your family?