We are often skeptical of albums that are branded "for babies," "for kids," or the like. The recently released Schumann: Album for the Young  is a completely different case. This is fantastic album and is perfect for the entire family!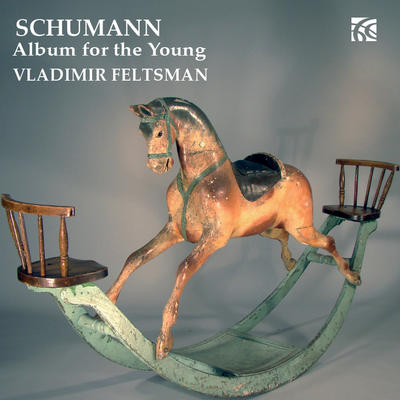 Find out why we love this album (and many others with the same music & title) along with some related info and ideas for kids to explore.
Rather than turning Schumann's beautiful piano music into fake generic electronic piano sounds or cheap tinkly chimes, the album keeps the music as it was intended with a rich full sound. The Schumann Album for the Young offers a wide variety of slow calming music for almost-sleeping babies to quick melodies that might inspire toddlers to skip and hop around the house.
As with so much classical music, you can find many versions of the same music performed by different performers, which makes things pretty interesting. We love listening to different performances of the same music and talking about why we like some performances over others or the specific aspects of particular performances that we like or dislike. You might try doing this with your children!
So, consider getting the entire album, multiple albums of the same music, or different performances of the same couple of pieces (tracks) that you like the most. We think your kids will love it and maybe even have some strong opinions about which performances they like the best!
Here are just a few versions of Schumann's Album for the Young recordings we like best:
Looking for some information on Schumann to integrate in a homeschool lesson or ideas for kids to explore? Read on. . .
Whether you are simply interested in enriching children's lives with information and activities related to classical music and composers or are following a homeschool music appreciation curriculum of some sort such as Charlotte Mason, it is worth spending some time with Schumann's music.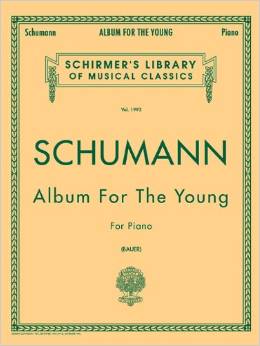 If you or older children are up for the challenge, consider getting the sheet music to play Schumann's Album for the Young on your own keyboard or piano.
Information:
Robert Schumann was a composer of the Romantic Era and was not only known for his piano music but also for his songs, referred to as Lieder in German. When it comes to songs, Schumann was famous for his song cycles. Song cycles are a set of songs, usually grouped around a common theme. Check out the many free recordings on the Lieder Sound Archive!
Activity:
Have children choose a topic or theme that they are interested in and create their own song with related lyrics and music that is expressive of that topic or theme. (Most Lieder were created for voice and piano but feel free to have children create their songs for only voice or whatever else they wish).
After creating one song around the theme, see what other songs a child or group of children might create to develop a song cycle.
It might be interesting to then listen to some of Schumann's song cycles and even try to create songs around the same or similar themes.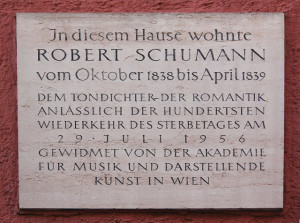 Information:
One of Schumann's most famous song cycles is Dichterliebe or, in English, A Poet's Love, where he set a number of poems about love written by Heinrich Heine, to music. Setting poems to music means creating music where the poems are sung as lyrics along with accompaniment. The resulting music is often called "art songs."  This video from the Norton company (intended for college students) gives a sense of more specific aspects of the melody, form, and harmony that can be analyzed in this music. More on the love poems here.
Activity: 
Have children choose a favorite poem and turn it into a song.
Have children compare rap or chants where the lyrics are performed rhythmically without a melody to music where the lyrics are song with a clearly defined melody.
Have children experiment with chanting, rapping, and singing their chosen poems.
If you have access to instruments (or apps) to perform an accompaniment, go for it! (See our post on songs that can guide actions for some apps that make it easy to play chords for accompanying singing).
Information:
Women composers haven't received the attention they should have. So, if we are going to talk about Robert Schumann, we should also introduce children to Clara Schumann, who was also known for her composing and piano playing!
Activity:
Have children name as many composers as they can.
Have them count how many of the composers are men and how many are women.
With guidance, have children look up images of composers. Have them count how many of the images are of men and how many are of women.
Have children research a composer who is also a woman.
 In conclusion: We think Schumann's Album for the young is a great set of music for babies, children, and people of all ages. Spending time with both Robert and Clara Schumann is time well spent as is creating original songs that children find meaningful or let them experience a poem in a new way.