What kinds of musical instruments are best for kids? There are so many ways to answer this question. Today we are going to review the Remo Kids Floor Tom.
As music educators, we have a lot of experience working with percussion equipment ranging from drums made for small children to percussion equipment designed for professional musicians. Our review includes affiliate links but we purchased the drum ourselves and are providing an honest review based on our feelings about the drum and experiences with our child playing it. We purchased a Remo Kids Floor Tom for our young child at around 15-months old and absolutely love watching the little musician bang and jam out on the drum with delight.
Super Short Review: We all absolutely love the Remo Kids Floor Tom and think you and your child or students would love it too. It gets 5/5 stars on Amazon with 866 reviews and we agree with all the positive accolades people give this drum!
Want to know why we love it and what you can expect? Read on. . .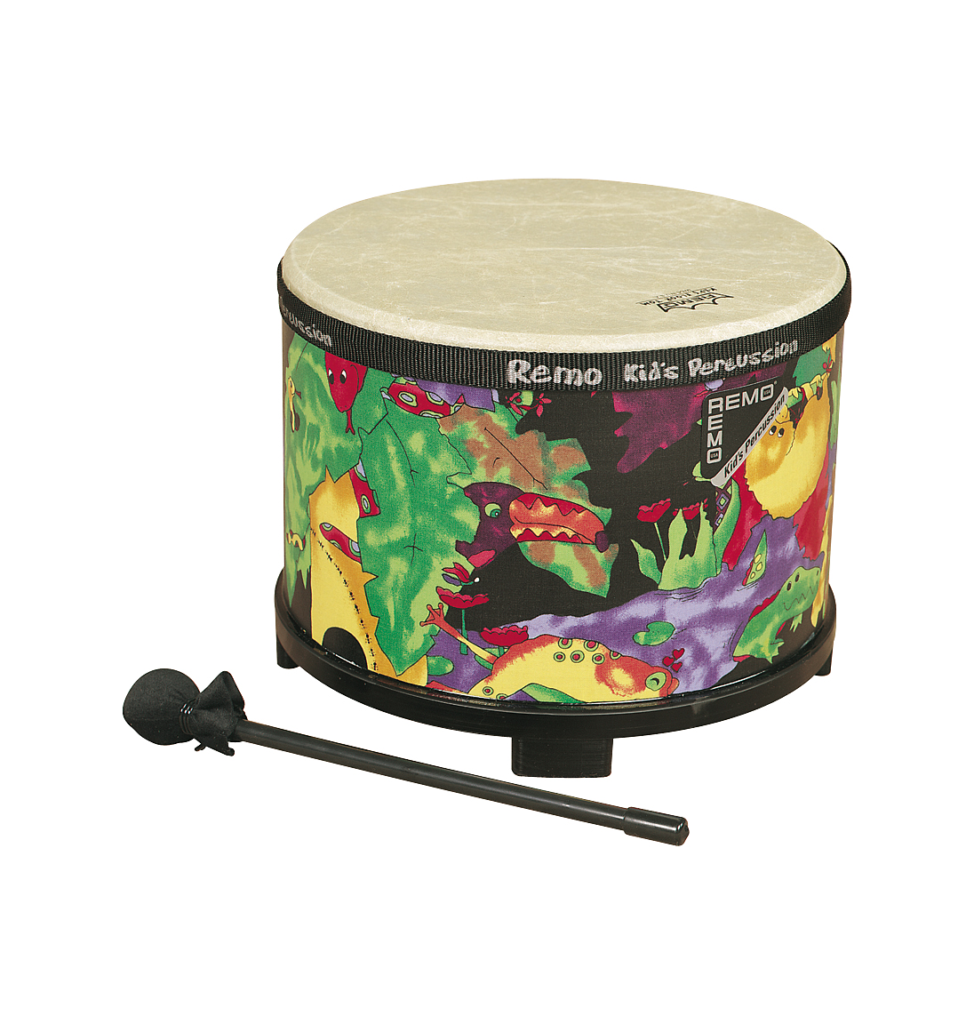 Detailed Longer Review:
Whenever you think about buying an instrument for a child, you might want to keep the following  considerations in mind:
Is the instrument designed for children?
What is the reputation of the company that makes the instrument?
Does the company make professional instruments as well?
What materials are used in the instrument?
What is the sound of the instrument like?
How difficult or easy is the instrument to play?
What does the instrument look like?
Let's take a look (and listen) at how the Remo Kids Floor Tom fares in relation to these issues:
Is the instrument designed for children?
The instrument is designed for ages 3+ and does not include information about safety in relation to prior ages so we suggest that you follow the recommended age and contact Remo directly if you have questions about its appropriateness for young children. That being said, our child plays it regularly and we've had no problems at all.
One of the things we love about the Remo Kids Floor Tom, is that it is designed to be played on the floor and has a set of "feet" as part of the structure of the drum itself. That means the sound can project out from under the drum. This is often overlooked in lesser quality drums. If the entire drum sits on the floor without any way for air to move around, you'll get a muffled and much less fantastic sound. The feet also make the drum nice and sturdy and it is easy for our child to play it while sitting down or standing up with a longer mallet (drum stick with a soft end). To be clear this is the type of instrument for play around the house (or perhaps outside on a nice day). This isn't the drum that you buy your child to play in the school band.  5/5
What is the reputation of the company that makes the instrument?
Remo has an excellent reputation as a maker of percussion equipment. In fact, chances are that if you walked into most elementary music classrooms around the United States, you are likely to see a bunch of Remo drums and percussion equipment. They are known for the quality of the instruments (they can take a beating – ha!) and the fantastic sounds that young people can make with them.  5/5
Does the company make professional instruments as well?
Yes! Remo makes professional drums. Now, this is not a deal breaker but there is something to be said about a company that knows what it is doing. While a lot of drums look cute and like they are made for kids, many of these drums are made with inferior materials, break easily, and don't sound very good. I mean if you are going to pay money for a drum might as well get something that sounds like a drum. Why pay money for a kid's drum that sounds pretty much the same as if your child was hitting an empty cereal box? That being said plenty of toy companies make quality instruments. 5/5
What materials are used in the instrument?
We are not exactly sure what the materials are since Remo uses propietary names for the material. Remo calls the drum frame or structure an "Acousticon® shell" and calls the drum head, a "pre-tuned Skyndeep® drumhead."  Whatever these drums are made of, they have great acoustic properties. In other words they are sturdy, light, and sound great! The drum comes with drum sticks or mallets that have soft ends that let a child play the drum (or hit it as hard as they can) to get a very good sound without ever damaging the drum.
There's a reason these are used so often in classrooms. They are built to last! We are curious about the materials. Are they sustainable? Are they all synthetic? If Remo provided additional info, this could be a 5 as well but we're going with 4/5
What is the sound of the instrument like?
Fantastic! Seriously, this is an amazing sounding drum. It instead of sounding like a light tap or splat, the drum has a lot of resonance, meaning the sound really "bounces" and sounds alive. Our child sometimes likes to play the drum with hands and sometimes with mallets. We encourage our little musician to experiment with different ways of hitting the drum, including with different types of mallets to get different sounds. We wouldn't suggest using typical drum sticks with hard ends, though. 5/5
How difficult or easy is the instrument to play?
It doesn't get much more easy than hitting it. In all seriousness, whether your child uses a finger, hand, or mallet, the drum is super easy to play and sounds great. Since it sits on the floor it is easy to play while sitting and depending how tall your child is, could probably play it while standing up. We keep some longer wooden mallets with yarn ends around, which makes it easy to play while standing further away from the floor tom (and allows our little musician to try out different kinds of sounds – probably overkill for most people since they are professional mallets). 5/5
What does the instrument look like?
The Floor tom looks great. The synthetic drum head mimics the look of a natural drum head and has a nice tan shade to it. The sides have a cute rainforest theme that goes well with the black trim and black feet. We care more about sound than looks, but that's us and we know looks are important to a lot of folks. You can rest assured that the Remo Kids Floor Tom looks great whether in the playroom, living room, or music room. 5/5
Overall Review
We enthusiastically recommend the Remo Kids Floor Tom for anyone who wants a nice sounding, good looking, and easy to play instrument for their child or students. This is a great way for children to be musical and creative. Get one for the house or a couple for a classroom or homeschool to make a rhythm section or drum band.
What do you look for in a young child's instrument?