We absolutely love seeing examples of young people creating and performing original music that expresses how they feel and their place in the world. While searching for info on signing for babies we came across this fantastic video on the My Smart Hands YouTube Channel, which is such a great example of empowering original music by a girl and her dad that asserts how extraordinary she and her fellow "science riot girls" are:
Here are a some considerations for encouraging girls to rock out with music and STEAM. . .
We love this music as it provides such a positive outlook of girls engaged in science and potentially STEM or STEAM fields. And from the look of the video it seems they are doing some very creative science! We also love the nod to the riot grrls and more general message that girls can create great popular music.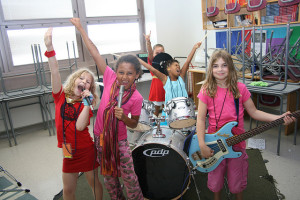 Do you ever encourage your children to create their own music that expresses how extraordinary they or their friends are? While in mainstream history and press, boys and men get the majority of attention in popular music and rocking out, there are quite a few resources available to help girls and young women:
Consider having young girls attend a music camp such as the Willie Mae Rock Camp for Girls , a local camp that is part of the Girls Rock Camp Alliance, or event connected to the organization Black Girls Rock.
The following books are great resources for girls who want to start rocking out:
For older girls you might want to check out Tom Tom Magazine, "the only magazine in the world dedicated to female drummers" or the tumblr site Female:Pressure, which features over 1,000 women musicians who create and perform electronic music.
And, since we started off looking for info on signing, check out this fabulous ASL music video of We're Going to Be Friends by the White Stripes, courtesy of D-Pan, the Deaf Professional Arts Network.
Let us know about how your kids make music!
This post contains affiliate links. You can read more about what this means in our disclosure statement on the about page.