There are so many possibilities to connect music to Thanksgiving. Whether you are looking for some Thanksgiving music appreciation ideas or ways of including music activities around the home during Thanksgiving time, here are 3 fun ways to connect music to Thanksgiving with related resources (includes some affiliate links):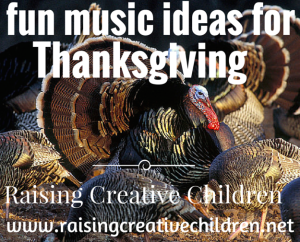 Original photo by US Dept. of Agriculture
Sing songs related to Thanksgiving
Singing music related to the time of year or holiday themes is a classic approach to any holiday. Here are some great songs for Thanksgiving
Five Fat Turkeys
Check out Make Moments Matter's post on Five Fat Turkeys in the music classroom for an idea of adding a section to also teach ABA form. Also take a look at this idea for a related fingerplay. It would also be great to make some of these felt turkey finger puppets , this sculpted clay turkey finger puppet, or this turkey glove to act out the song! For those of you who read staff notation, here's one of Tom's Orff arrangements (though when we sing it, we like to add a little swing and syncopation and pay less attention to the written rhythms).
A Turkey Ran Away
There are multiple ways to sing the song (some choose to use the melody from the Farmer in the Dell). Here's a fun version of The Turkey Ran Away by Josh and the JamTones:
Thanksgiving Day
What most people remember as "over the river and through the woods to grandmother's (or grandfather's) house we go. . ." is actually the poem Thanksgiving Day by Lydia Maria Child set to music! Check out the wonderful book Over the River and Through the Wood: The New England Boy's Song About Thanksgiving,  which is a retelling of the poem!
I Know an Old Lady Who Swallowed A Pie
OK so we all know the original "fly" version of the song, but it's way too easy to grab the book I Know and Old Lady Who Swallowed a Pie and swap in some new words for this fun family story that is just perfect for singing during Thanksgiving! Check out Carrie's Speech Corner for some additional educational ideas to go along with the story.
2) Create music related to Thanksgiving!
We are huge fans of providing young people opportunities to create their own music. For Thanksgiving, it makes sense to have children create songs that express what they are thankful for! This can be very meaningful.
Additionally, we often use books as a prompt for creating music. Imagine how much fun it can be to read through a book accompanied by music created by children! Here are some Thanksgiving books that could work well as composition prompts:
3. Listen to (and discuss) Classical Music that Relates to Giving Thanks
It might be interesting to share music and related stories that is connected to the idea of giving thanks. The album Come Ye Thankful People by the Quincy Choral society features choral music focused on giving thanks. The CD A Classic Thanksgiving: Songs of Praise also features music to praise and give thanks. Amanda Angel outlines several additional Classical works that express thanks.
How do you connect music to Thanksgiving?