There are plenty of reasons to have little ones engage with fingerplays. Fingerplays combine music with hand movements and gestures and provide a fun way to combine children's love of music with their development.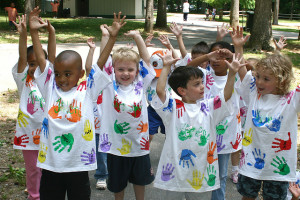 If you don't know or remember any fingerplays, consider Dr. John Feirerabend's book The Book of Finger Plays & Action Songs
. Dr. Feierabend is an internationally recognized expert in early childhood music education and has a wonderful series of books called First Steps in Music
.
Benefits of Fingerplays?!
Making music with a childhood is a reward in and of itself but some of you might be interested in additional benefits of engaging young ones with fingerplays. For instance, Alice-Ann Darrow explains that " fingerplays that accompany songs are an excellent way for young children to work on fine motor development."1)Darrow, A.-A. (2001). Early childhood special music education. General Music Today, 24(2), 28-30, 29 Donna Wiggins draws connections between musical engagement and literacy development, making the point that fingerplays are one of many strategies for helping children develop phonemic awareness given the presence of rhymes and alliteration.2)Wiggins, Donna Gwyn. "Pre-K Music and the Emergent Reader: Promoting Literacy in a Music-Enhanced Environment." Early Childhood Education Journal 33, no. 1 (2007): 55-64.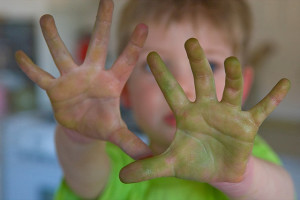 Winters and Griffin describe how a therapist suggested that the gestures and repetitive melodies in fingerplays may have helped a toddler communicate his emotions. They also explain that "music with fingerplays and rhymes encourages children's physical engagement and then call attention to the words."3)Winters, Kari-Lynn and Shelley M. Griffin. "Singing Is a Celebration of Language: Using Music to Enhance Young Children's Vocabularies." Language and Literacy 16, no. 3 (2014): 78-91, p.5
When it comes down to it, regardless of other benefits, fingerplays are a great way of connecting with a young one and fostering the joy of music and creative play.
This post contains affiliate links. You can read more about what this means in our disclosure statement on the about page.
| | | |
| --- | --- | --- |
| 1. | ↑ | Darrow, A.-A. (2001). Early childhood special music education. General Music Today, 24(2), 28-30, 29 |
| 2. | ↑ | Wiggins, Donna Gwyn. "Pre-K Music and the Emergent Reader: Promoting Literacy in a Music-Enhanced Environment." Early Childhood Education Journal 33, no. 1 (2007): 55-64. |
| 3. | ↑ | Winters, Kari-Lynn and Shelley M. Griffin. "Singing Is a Celebration of Language: Using Music to Enhance Young Children's Vocabularies." Language and Literacy 16, no. 3 (2014): 78-91, p.5 |