Interested in ways to open children's ears and minds? Try introducing them to the music and ideas of John Cage!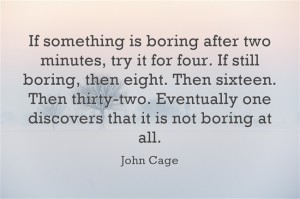 The composer John Cage is most famous for his composition 4″33 during which the performer performs silence and whatever other sounds occur constitute the music. Cage is a wonderful composer who ought to be introduced to children. He offers so many ways to open ears and minds! (we are including some affiliate links below)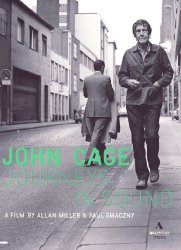 It is certainly worth watching some parts of the DVD, John Cage Journeys in Sound with children to get them thinking creatively and to prompt some interesting activities or music projects.
Here's an early composition of his featured on a television show that demonstrates his creative in using everyday objects to create interesting music:
John Cage's interest in silence and creative approaches to sound was genuine. His perspectives are wonderful for sharing with young people who might also be open to explore sound and silence in similar ways. Listen to Cage discuss his interest in silence and sound here:
He also engaged in some great experiments with the piano that children would love ranging such as music for Toy Piano. . .
. . . and  "preparing" pianos by sticking objects inside of them to alter the sound in interesting ways:
Cage not only composed music but wrote a lot of great books that are wonderful resources for inspiring interesting activities for children to guiding music projects for schools or homeschool music appreciation curriculum! As we mentioned before, we are fans of his book, Silence, which definitely gets you thinking in new ways. Although John Cage is not typically included in homeschool music appreciation programs or even Charlotte Mason style composer studies, we think children would love learning about him!
How might you integrate the music and ideas of John Cage to foster children's creativity? 
What types of interesting music might they create out of found sounds?